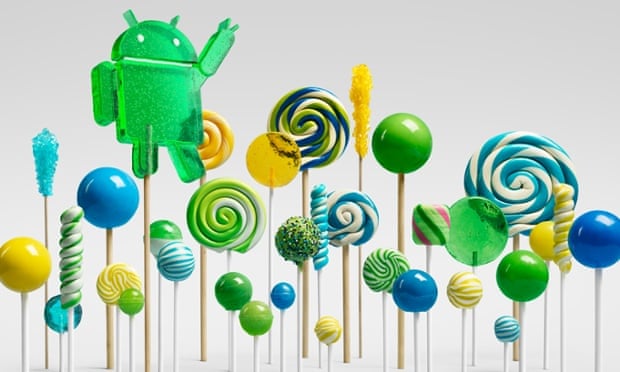 Excerpts from The Guardian's review:
Google's new version of its tablet and smartphone operating system "Lollipop" is the fifth version of Android, introducing new features and tweaks that collectively give the user the feeling that quite a lot has been improved.  Unveiled as "L" at Google's developer conference I/O in June to replace Android 4.4 "KitKat, Android 5 Lollipop was revealed alongside Google's new design ethos called "Material".
Smooth Sliding:  For Lollipop that means the use of much brighter, fuller colours than the previous version of Android and a more consistent look. Menu bars are one solid block of colour, icons are highly stylised and flat, while interface "cards" first introduced with Google Now are used throughout, floating and sliding over the top of each other adding depth.  Every bit of the interface looks different, including the background which now changes colour depending on the time of day in some apps, and some slick new sliding animations which add motion to many of Android's responses.
Beyond the obvious colourful difference, Lollipop introduces a couple of important features into the core Android experience.
The first is multiple user accounts on one device. Some Android tablets have had support for more than one user, but smartphones and other devices have been limited to a single user account.
Multitasking has also been enhanced with a new card system. Each app can show more than one card allowing users to switch to an open message or back to the inbox, for example – not just to one view in the app.
Longer Battery Life:  Lollipop also promises to help prolong smartphone and tablet battery life by being more efficient and tougher on battery-draining apps. It uses a new version of the underlying software called Art that powers apps, which is both faster and lighter on resources.
A pre-release version of Lollipop installed on a Nexus 5 smartphone made the battery last around a quarter longer, with others finding even longer gains of over 35% or two hours in tests. Users should see their smartphones and tablets lasting significantly longer after being updated
For the complete article, please click here.
Image courtesy of Google