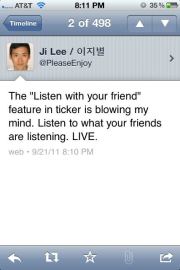 Facebook creative director, Ji Lee, spilled the beans about Facebook's upcoming Facebook Music service when he tweeted:  "The 'Listen with your friend' feature in ticker is blowing my mind. Listen to what your friends are listening. LIVE."
The "ticker" Lee referred to is the live scrolling updates of your friends, as implemented in the recent interface update of Facebook.
The graphic associated with this post is a snippet of a screenshot by quick-fingered Twitter users — before Lee and Facebook removed Lee's tweet from public view.
What the Facebook Music feature will look like, and how it will actually function, is still a secret.  Keep an eye on both the ticker and the general Facebook user interface over the next couple of days.